pegasus announces results of the radonex survey on its pine channel uranium project, athabasca basin, saskatchewan
VANCOUVER, BC—August 24, 2022– Pegasus Resources Inc. (TSX-V: PEGA: Frankfurt – OQS2, OTC/Pink Sheet symbol: SLTFF) (the "Company" or "Pegasus") is pleased to announce that based on the recent radon survey results, in combination with the historical geophysical work, Pegasus is looking to advance its Pine Channel Uranium Project (the "Project" or "Pine Channel"), located in the Athabasca Basin region of northern Saskatchewan, to the drilling stage.
The radon survey comprised two grids, Grid A and Grid B, consisting of 461 and 217 radon sampling points. Grid A spans roughly 3km east to west, starting along the shoreline and extending approximately 850m to the south. Grid B is 1300m by 750m and is located to the south of Grid A.
GRID A:
Two linear anomalous radon trends are interpreted on Grid A,
A NNE to SSW trend and a WNW to ESE trend. Both are interpreted to reflect basement structural features.
GRID B:
There are three ENE-WSW trending anomalous radon trends. The three diminish in intensity toward the WSW. Given that the dominant ice direction in this region parallels these trends, RadonEx interprets that they may be caused by uraniferous boulder trains. Alternatively, they may be due to ENE-WSW basement structures that parallel the nearby Grease River Shear Zone.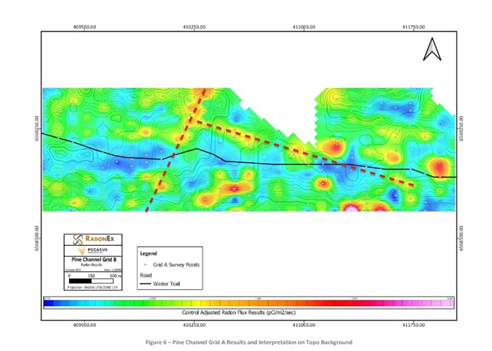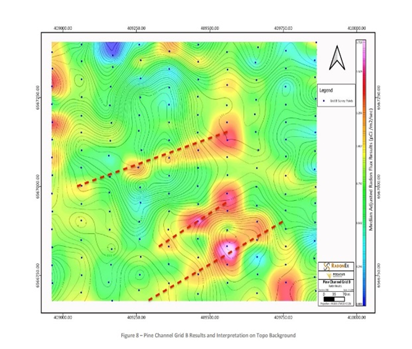 "Exciting times for Pegasus investors. The radon survey came back, and we have drill-ready targets!" stated Chris Timmins, President of Pegasus Resources. "Pegasus, over the coming weeks, will apply for the necessary permits and consult with the group representing the northern communities and First Nations groups, the Ya' thi Néné Lands and Resources (YNLR) office, leading up to a winter drill program."
Pine Channel Uranium Property Highlights:
The Project is prospective for unconformity-related uranium mineralization, with a very shallow depth to the basement from surface of about 60 to 100 metres;
Historical work identified two conductive trends on the Project. One trend is approximately 2.5 km long, defined by both airborne and ground electromagnetic (EM) surveys. The second, a 600-metre-long conductor has not yet been followed up with a ground EM survey(s) or drilling; and
Drilling in 1981 identified anomalous uranium in a hematite-rich fracture within Athabasca sandstone rocks, directly above unconformity in hole PC81-2 with 0.15% U3O8 over 0.15m.
The Project with a thin cover of Athabasca Basin, is underlain at shallow depths by the structurally complex Tanto Domain, which is host to numerous U, Cu, Ni and Au occurrences.
Qualified Person
The scientific and technical information contained in this news release has been reviewed and approved by Neil McCallum B.Sc., P.Geo. of Dahrouge Geological Consulting, who is a "Qualified Person" as defined in NI 43-101.
About Pegasus Resources Inc.
Pegasus Resources Inc. is a diversified Junior Canadian Mineral Exploration Company with a focus on uranium, gold, and base metal properties in North America. The Company is also actively pursuing the right opportunity in other resources to enhance shareholder value. For additional information please visit the Company at www.pegasusresourcesinc.com or contact Charles Desjardins at charles@pegasusresourcesinc.com.
On Behalf of the Board of Directors
Christian Timmins
President and Director
Pegasus Resources Inc.
700 – 838 West Hastings Street
Vancouver, BC V6C 0A6
PH: 1-604-369-8973
E: info@pegasusresourcesinc.com
Neither the TSX Venture Exchange nor its Regulation Services Provider (as that term is defined in the policies of the TSX Venture Exchange) accepts responsibility for the adequacy or accuracy of this release.
Forward Looking Statements
Statements included in this announcement, including statements concerning the Company's plans, intentions and expectations, which are not historical in nature are intended to be, and are hereby identified as, "forward-looking statements". Forward-looking statements may be identified by words including "anticipates", "believes", "intends", "estimates", "expects" and similar expressions. The Company cautions readers that forward-looking statements, including without limitation those relating to the Company's future operations and business prospects, are subject to certain risks and uncertainties that could cause actual results to differ materially from those indicated in the forward-looking statements.
Back To Archive