pegasus resources receives drilling permit for pine channel
VANCOUVER, BC—October 12, 2023 – Pegasus Resources Inc. (TSX-V: PEGA: Frankfurt – OQS2, OTC/Pink Sheet symbol: SLTFF) (the "Company" or "Pegasus") is thrilled to announce the receipt of the Pine Channel Mineral Exploration Permit for Diamond Drilling from the Saskatchewan Ministry of Environment for the upcoming exploration program at its Pine Channel Uranium Project, situated in the Athabasca Basin region of northern Saskatchewan. This pivotal step sets the stage for our maiden drill program at Pine Channel.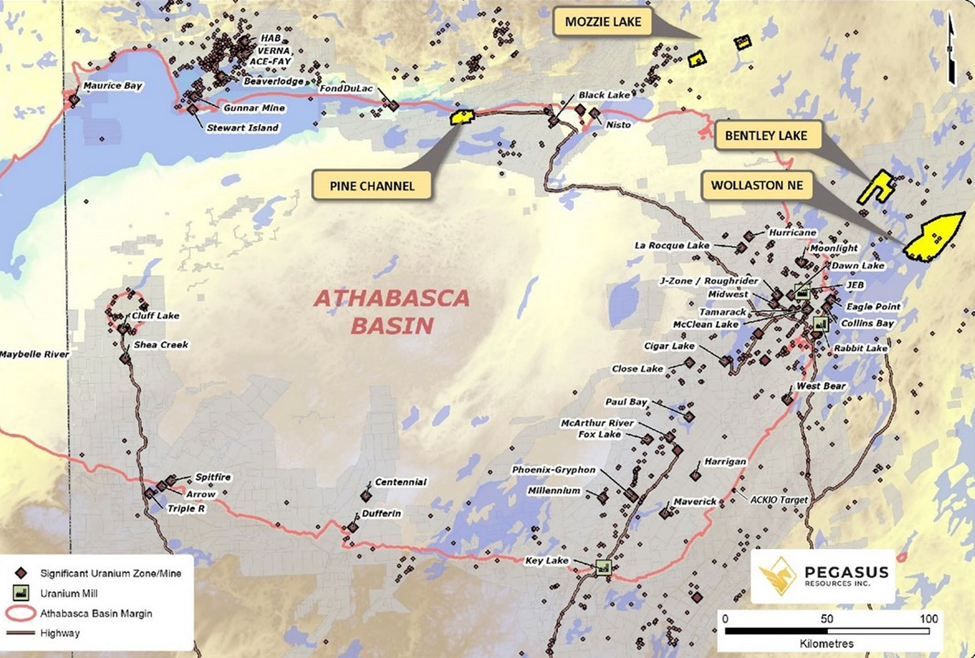 These permits, including Crown Land Work Authorization, Forest Product Permit, and Aquatic Habitat Protection Permit, come with a set of conditions that aim to address concerns voiced by local First Nations communities. These conditions cover various aspects, including caribou protection, specific site locations, and impacts on traditional land users. We are committed to maintaining an ongoing dialogue with these communities to prevent and mitigate concerns while fostering open communication.
The approved permits enable us to carry out essential work, including the clearance of up to six land drill holes with pads not exceeding 400m2 in size.
The Pine Channel Uranium property holds immense promise, featuring shallow depths to the basement from the surface, historical exploration identifying conductive trends, and drilling that discovered anomalous uranium. Previous work involved a ground radon and ground gravity survey. These methods have proven successful in identifying exploration targets that have led to significant uranium discoveries around the Athabasca Basin.
Pegasus Resources expresses its gratitude to all stakeholders and the Ya' thi Néné Lands and Resources (YNLR) office, representing northern communities and First Nations groups, for their cooperation and support. We are excited to embark on this exploration phase and will ensure that all work is conducted responsibly and in line with environmental preservation principles. Further updates on our progress will be provided as we move forward.
About Pegasus Resources Inc.
Pegasus Resources Inc. is a diversified Junior Canadian Mineral Exploration Company with a focus on uranium, gold, and base metal properties in North America. The Company is also actively pursuing the right opportunity in other resources to enhance shareholder value. For additional information, please visit the Company at www.pegasusresourcesinc.com
On Behalf of the Board of Directors:
Christian Timmins
President, CEO and Director
Pegasus Resources Inc.
700 – 838 West Hastings Street
Vancouver, BC V6C 0A6
PH: 1-403-597-3410
X: https://twitter.com/MrChris_Timmins
X: https://twitter.com/pegasusresinc
E: info@pegasusresourcesinc.com
Neither the TSX Venture Exchange nor its Regulation Services Provider (as that term is defined in the policies of the TSX Venture Exchange) accept responsibility for the adequacy or accuracy of this release.
Forward Looking Statements
Statements included in this announcement, including statements concerning the Company's plans, intentions, and expectations, which are not historical in nature are intended to be, and are hereby identified as, "forward-looking statements." Forward-looking statements may be identified by words including "anticipates," "believes," "intends," "estimates," "expects" and similar expressions. The Company cautions readers that forward-looking statements, including without limitation those relating to the Company's future operations and business prospects, are subject to certain risks and uncertainties that could cause actual results to differ materially from those indicated in the forward-looking statements.
Back To Archive