Gold Mountain
History Timeline
1930's - One adit and two small open cuts
Late 1960's - Grab samples of quartz veins contained up to 0.27 g/t Au and 268.8 g/t Ag (Empey and Richardson, 1981)
1982 - 14+ trenches uncovered two veins at the North Showing, where a 1m thick quartz vein in two trenches returned 4.87 g/t Au, 646.9 g/t Ag, and 1.89% Cu, and 3.50 g/t Au, 582.3 g/t Ag, and 73.31% Pb. At the South Showing, 5 veins were exposed and several trenches returned up to 30.3 g/t Au, 12 123.1 g/t Ag, and 32.54% Cu. (Allen, 1982)
1983 - Two bulk samples confirmed the 1982 results with a 590 lb sample averaged 2.33 g/t Au, 703.4 g/t Ag, and 1.04% Cu. Additionally, 71 vein sample material averaged 2.78 g/t Au, 885.3 g/t Ag, and 1.23% Cu. (Parr, 1983)
1984 - 8 shallow drill holes (Parr, 1984) with highlights of:
4.04 m - 59.04 g/t Au, 6863.1 g/t Ag, 16.9% Cu, and 8.95% Pb
4.50 m - 7.89 g/t Au, 942.2 g/t Ag, 2.3% Cu, and 5.26% Pb
Location
The properties are located within the main ranges of the Rocky Mountains near the British Columbia – Alberta border. The majority of the Punch Bowl property lies within the lower Gog Group McNaughton Formation along two NW-SE trending faults (the Chatter Creek Fault and McGilvray Fault). Roughly half of the Vertebrae Ridge Property lies within the Lower Gog Group Jasper Formation, with other portions of the property laying within the Waterfowl, Stephen, Whitehead and Cathedral Formations consisting of course clastics, mudstone, shales, and limestones, respectively. The Gold Mountain claims lay within the Lower Chancelor Formation which consist of limestone, slate, siltstone and argillite. The trend which the two properties lay on is of significance as it has potential for Fosterville like deposits hosted within turbidites of the Gog Group. A number of untested syenite bodies along with regional geochem survey anomalies occur along this trend and would be interesting targets for further regional gold exploration.
History
The Gold Mountain claims cover the historic Grizzly occurrence where gold and silver are hosted within polymetallic quartz / carbonate veins.Discovered in the 1930's, at least one adit and two small open cuts were developed on the prospect. During the 1980's two showings were discovered, which are considered part of a 600+ m long trend of quartz veins and stockworks.
Exploration during 1982 at the North Showing, near the adit, identified a 1 m wide quartz vein, which returned a grab sample of 4.87 g/t Au, 647 g/t Ag and 1.89% Cu.
At the South Showing, five veins are exposed by trenches within a zone about 4 m wide, a peak value of 30.3 g/t Au, 123.1 g/t Ag and 32.54% Cu was returned.
Eight shallow back pack style drill holes were completed in 1984, though poor recoveries were noted, results include:
4.04 m - 59.04 g/t Au, 6,863.1 g/t Ag, 16.9% Cu, and 8.95% Pb
4.50 m - 7.89 g/t Au, 942.2 g/t Ag, 2.3% Cu, and 5.26% Pb
Geology & Mineralization
The area is underlain by grey, buff and black-banded Cambrian argillite, argillaceous limestone, limestone, dolomite, and narrow bands of sheared mica schist. Bedding is near vertical and strikes northwesterly. Veins generally strike 130° following along a regional fold within a fault. Disseminations and lenses of tetrahedrite, galena, chalcopyrite and pyrite occur within the quartz carbonate veins. Gold values are reportedly associated with tetrahedrite and silver values with the galena. Tetrahedrite appear to be most common within quartz which may be later than the carbonate/galena. Little to no wall rock alteration has been noted.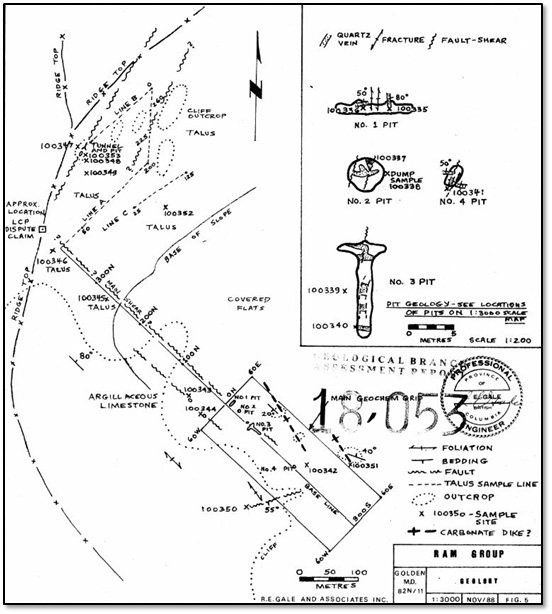 Zone Geometry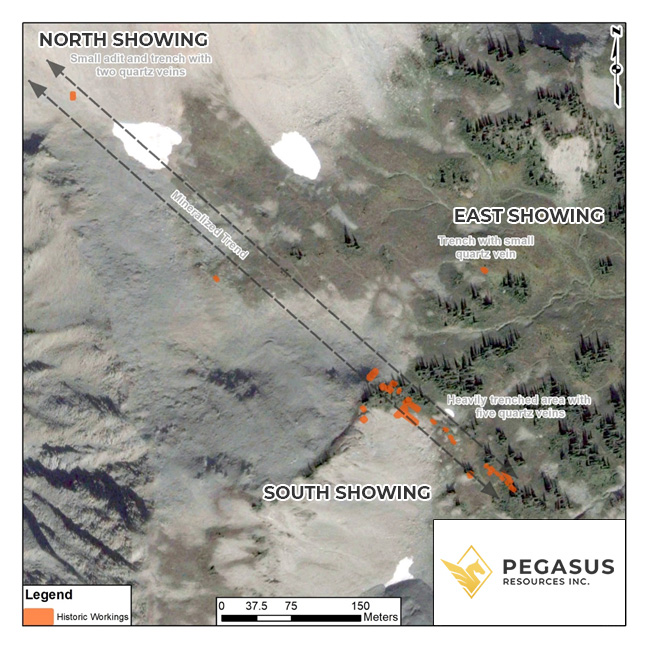 Two main showings (North and South) are separated by about 450 m of talus. Mineralized boulders within the talus attest to the continuity of the zone(s). The mineralized trend is 500 m - 600 m long and open on both ends. Approximately 150 m NE of the main Gold Mountain trend, a third showing (the east showing) consists of narrow quartz veins exposed in a trench. The veins strike ~130° along a regional fold and appear to occupy a fault or fracture-cleavage. Cross veins are present. The South Showing encompasses five vein exposures in multiple trenches over an approximate 160 m by 50 m area. Two veins are presumed to continue to the North Showing and are exposed by a shallow open cut and small adit. These veins are up to 1 m thick in places. A conceptual exploration target with dimensions of 600 m x 4 m wide x 200 m vertical with an assumed 2.7 SG would equate to 1.3 Mt.